Kerrah Bulls Excell in Progeny Test, Selection of Semen tested Yearlings for sale NOW
posted by: kerrah, 31st Oct, 2020 11:18am
Spring has finally arrived and calving finished for another year. Exciting news from the NZ beef and lamb progeny test Cohort 3 where Kerrah Captain progeny ranked 4/47 for ylg weight and 2/47 for 18mnth weight whilst 1/47 for EMA and 8/47 for Rib fat exactly the terminal sire we have been trying to breed, Waikite Zac who we used for several seasons ranked 1st for ylg weight and 3rd for 18mnth weight. And from the 5 th Cohort which has only had WW analysed Glenside Frontier who we purchased as a 2yr old ranked 1/37 Kerrah Destined ranked 2/37 and Kerrah Epic who has a stunning line up of yearlings this year ranked 3/37. Last week saw all the yearling bulls EMA and fat scanned and 400 day weight and scrotal circumference taken, to go with their 100k genomic information from their DNA to give us the best information possible to fast forward progress to ensure further results like those being achieved on the progeny test. A selection of bulls will be Semen tested on Monday and available for private sale.
read more
...
Sale Results
posted by: Kerrah, 4th Jul, 2020 4:48pm
Thank you to all our loyal clients and the few new ones who have bought bulls this season to give us our first complete clearance of 2 yr bulls.We trust they will be a good investment in the future of your breeding operation, if you have any issues or questions don,t hesitate to give us call. We have just sent away over 200 DNA samples from bulls which have the chance of being Homozygous polled. With only 4 horned bulls in the 210 yearlings the DNA test is enabling us to fast forward progress in the selection for polled, coat colour, and tenderness like never before.
read more
...
Jan 2020 Update, compliments of the season as another year roles around
posted by: kerrah, 21st Dec, 2019 1:34pm
Ignoring the background noise of climate change and water reform 2019 has been another good year for farming around most of the country with good prices and reasonable seasons. This years sale bulls are looking better than ever with sons from Kerrah Allrounder, Defender, Beyond Doubt and Glenside Crumpy among the leading bulls. The sale date is Tuesday 19th May 2020 mark it in your Dairy even if it is just to come and look at awesome line of bulls
read more
...
Feb 2019
posted by: Kerrah, 2nd Feb, 2019 1:51pm
Compliments of the season as the predicted El Nino brings a bumper season to most parts of the country,
read more
...
Septembers unwelcome rain
posted by: Kerrah, 2nd Feb, 2019 1:32pm
Kerrah Simmentals wins Grand Champion in Steak of Origin 2018
posted by: kerrah, 14th Jun, 2018 11:35am
Kerrah wins European and Overall grand Champion at NZ Steak of Origin competition held at Mystery Creek Hamilton after being a finalist for the last 6 years.
read more
...
Sale Report
posted by: kerrah, 29th May, 2018 5:27pm
3rd On Farm Sale a success with 81 bulls selling for an average of $7910. Top Price of $27000 to Brooklands Simmentals Danniverke for Lot 2. With plenty of good bulls selling between $5500 and $8000. Bulls sold to Queenstown to Kaitaia with a strong presense from long term clients.
read more
...
2018 Sale Date
posted by: kerrah, 24th Apr, 2018 3:31pm
Kerrah's sale date this year is Tuesday, 22nd May at 1pm. Write it in your diary now!
2017 Sale Report
posted by: kerrah, 27th May, 2017 6:57pm
A big Thank You to all those who supported and made our 2nd on farm sale a great success. 80/82 bulls sold for an average $6711. 6 bulls selling to stud but the top price bull Lot 8 selling to the Mc Fadzean family of Glenbrae Partnership Carterton for $17500.
read more
...
February 2017 Newsletter
posted by: kerrah, 17th Feb, 2017 10:12am
It was good to see a solid year for most farmers with very good prices for beef and a pretty good spring, all be it, a bit late around most of the country.
read more
...
Spring 2016 Update First on farm sale a great success with all 66 bulls selling for $6354.
posted by: kerrah, 5th Aug, 2016 7:04am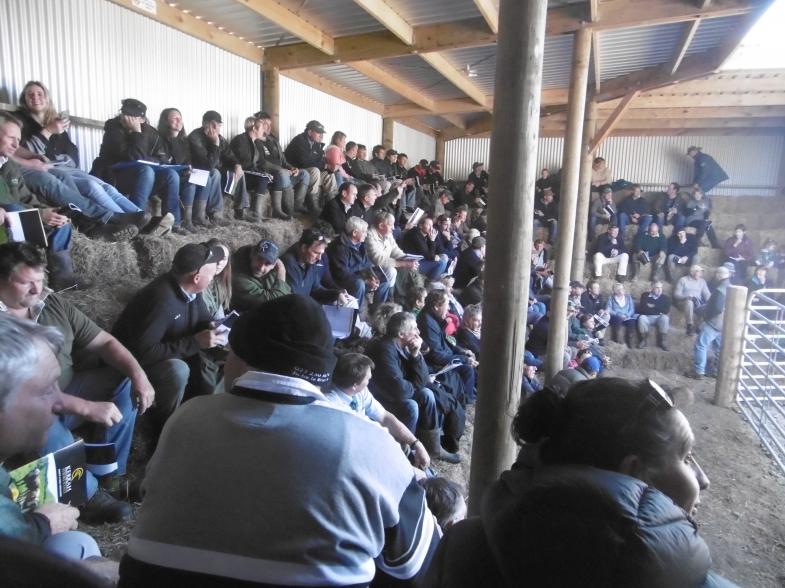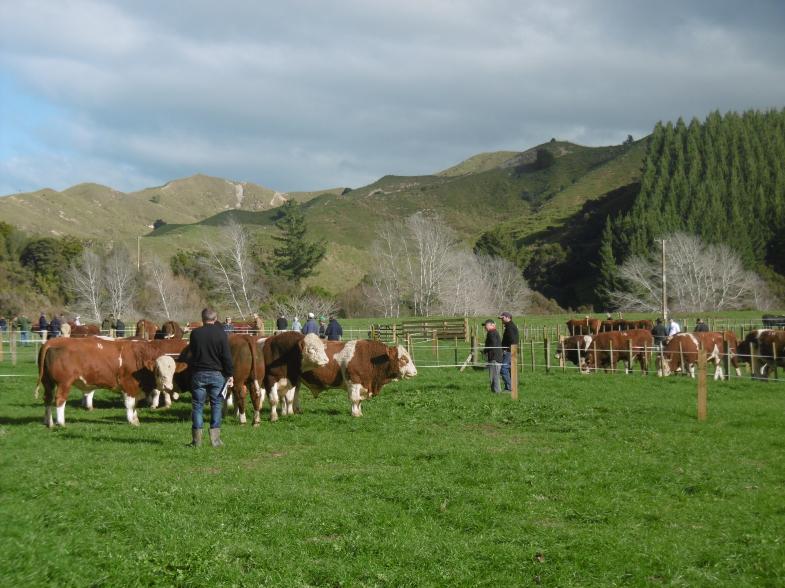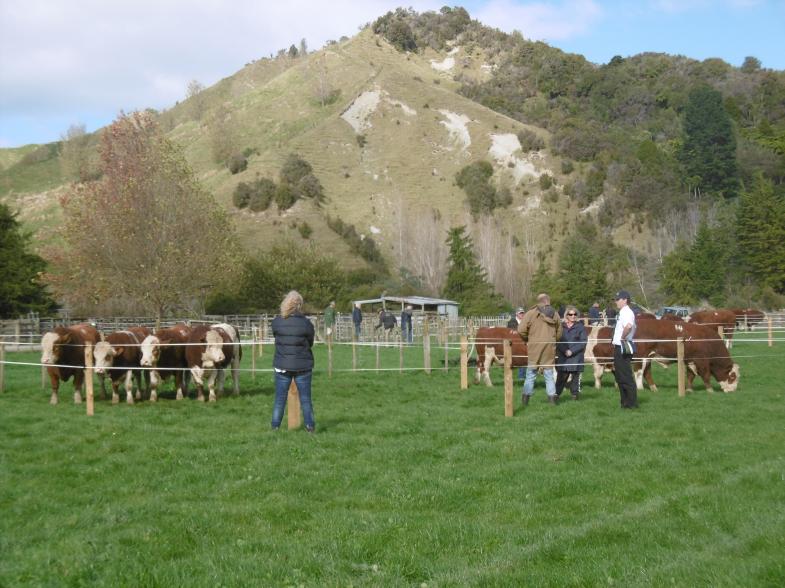 It was great to see such a turnout of buyers for our first on farm sale at Tangiwai.
Next years crop of bulls are looking very promising with few new sire lines coming though like Te Raumauku Annaconda and Kerrah Big Boy and Waikite Ample all coming though exceptional for the new Docility EBVS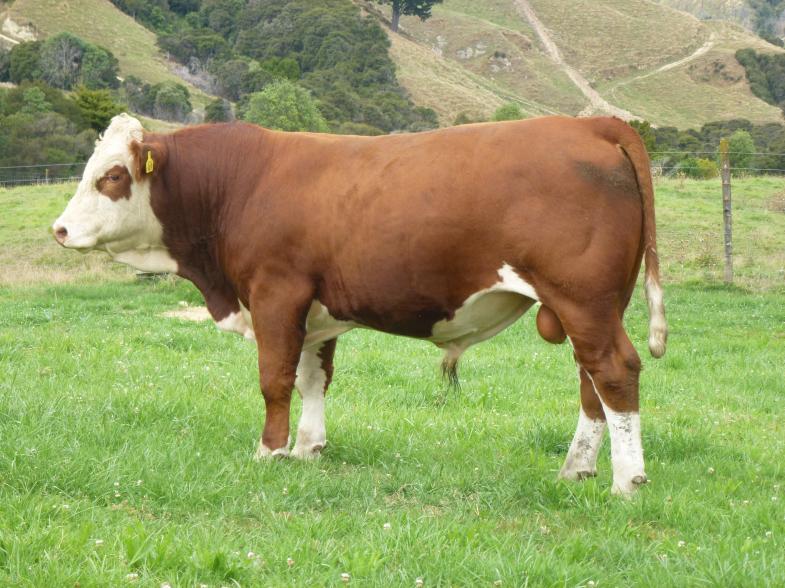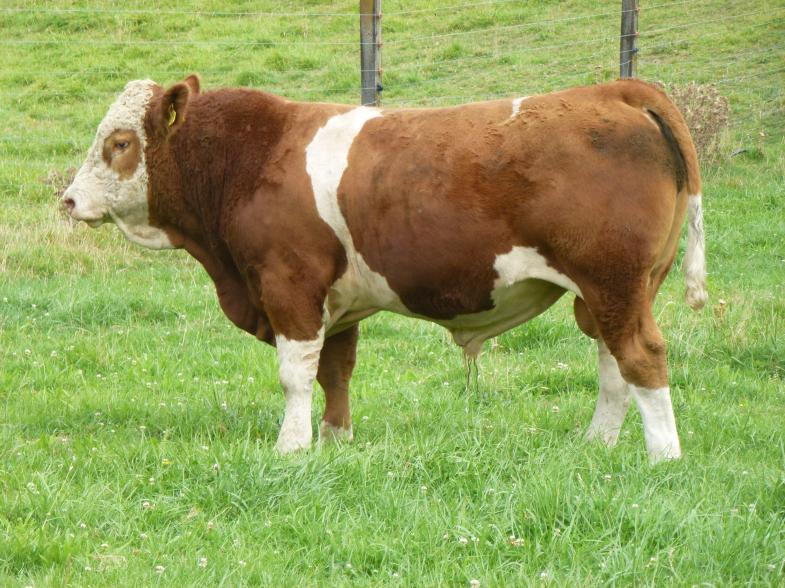 Kerrah Big Boy and Banker as Ylgs and Te Raumauku Annaconda as R3
It was also a family highlight with great success at beef expo with a great haul of prises across steak of origen, future beef and national heifer show and sale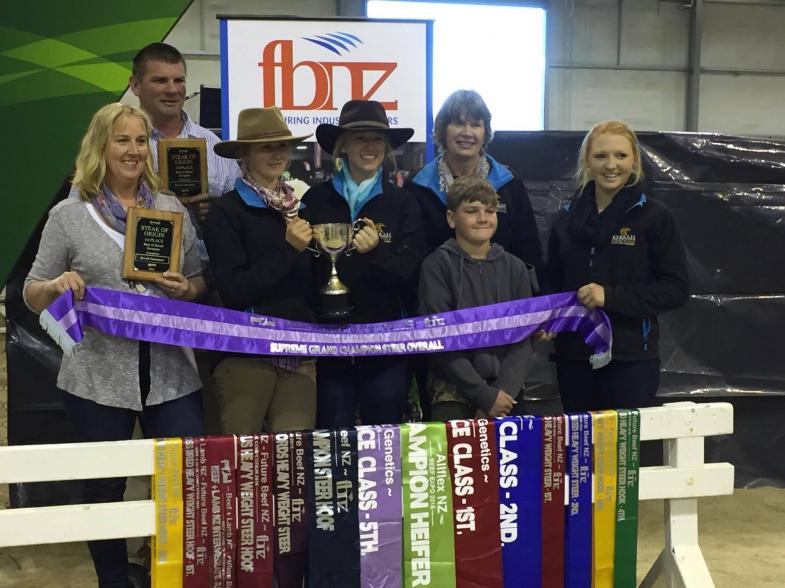 Clean and fluffy Cadbury ready for Beef Expo
posted by: kerrah, 30th Apr, 2015 11:51am
Ten-year-old Ben Knauf has watched his older sisters prepare steers for the Hoof and Hook competition run by Future Beef at the annual Beef Expo at Manfeild, but he's never been to the event himself.
read more
...
Seasonal update (end of 2014)
posted by: Kerrah, 28th Dec, 2014 10:19am
What a great season it has been, wishing you all a Merry Christmas and a Happy New Year. We greet 2015 with near record high beef prices, trusting our clients are maximising kilos of beef produced.
read more
...
Kerrah 4th Annual Sale
posted by: kerrahbrett, 7th May, 2011 9:51am
4th KERRAH ANNUAL Rising 2yr Bull Sale is WEDNESDAY 25th MAY 2011 @ 1.00pm on the Miln property 459 Terrace Road, Kimbolton. Online and Print sale catalogue available on our sale catalogue page.
read more
...
Seasonal Update
posted by: Kerrah, 23rd Mar, 2011 9:12am
What a season, from the highs of the commodity returns to the volitility of climatic variations, from the the devaststion of the Christchurch quake to our own personal loss of Kevin (dad) on the farm, 2011 has started as a bit of a rollercoaster ride for all of us.
read more
...
Kerrah Sale News
posted by: Kerrah, 11th Jun, 2010 6:18am
A BIG THANK YOU to all of those purchasers who helped give Kerrah it's first total clearance at auction and the most bulls sold by paddock sales!
We trust your purchases and their progeny will realise and exceed your expectations.
It was great to see so many quality bulls sold between $3500 - $4500, an affordable value which you our clients can get a good return on investment.
If you still require a bull we still have a selection of bulls available as paddock sales, both at Kimbolton and Tangiwai. Two young sires were sold to stud with AW194 sold to Glenside Simmentals Otago and AW24 to Island Stream Simmentals North Otago.
Kerrah has retained 8 two year sires and brought Leafland AW27 an atttractive polled sire from Everd and Marie Strauss Mosgiel to compliment the bull team.
New Kerrah Simmentals Website
posted by: Kerrah, 11th Jun, 2010 6:11am
Welcome to our first website update. We hope to keep you informed with news within the breeding program and developments within the genetics industry which may be of interest or potential.
read more
...